5 key reasons why a customer wants to do business with us
The Satterwhite Log Homes Difference
Commitment
Satterwhite Log Homes is in our fifth decade of building and providing materials for quality log cabins, log home and log commercial structures. We are committed to what we do and how we do it.
Dry Logs
We are fanatics about using dry house logs to build stable, strong log homes. Dead-Standing timber, with its great insulating properties, provides us with the perfect building material. With dry timber we are assured less shrinkage, less settling, less movement, less problems, and freight costs are lower per unit because our trucks have less water and more wood! 
Family Owned
The Satterwhite Family is "all in" with this family business and preparing for our third generation to work hard for you. We have employees and crews who have served our customers for 20, 30, even 40 years. Some of our employees are second and third generation.
Flexibility
Our log home floor plans or yours, no problem! Satterwhite offers a combined total of over 75 floor plans to choose from or make changes to. However, our design team can also help design your one-of-a-kind dream log home.
From Forest to Job Site
We are able to offer mill-direct pricing because it's Satterwhite from forest to job site. You are buying from the timber company, logger, sawmill, lumberyard, and builder, all in one!
Why Satterwhite Log Homes?
Benefits to choosing Satterwhite Log Homes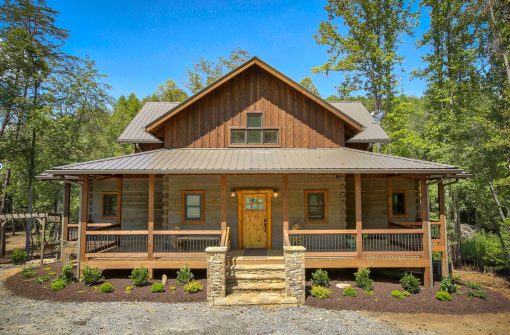 Quality products require the highest quality raw materials. Unlike most log home companies who use locally convenient materials, Satterwhite has searched the entire North American continent seeking wood with exact characteristics.
The log home industry is notorious for endless debates about wood species. But one  huge factor is a constant, regardless of tree type, and that is moisture content.  The simple fact is that living trees have high water content, and that the dimensions of wood change dramatically as it dries after being cut.By using dead standing timber, Satterwhite Logs are "pre-shrunk" all the way to the core. "Kiln-Dried" or "Air-Dried" logs are dry how deep? 
By starting with trees that have been killed by natural causes, then allowed to dry over time in arid conditions of the American West, Satterwhite sidesteps all the issues and costs of working with green cut living trees. And, it turns out, the natural solution is the best solution for thorough dryness and long term stability. Besides superior performance, many people prefer building their log home without cutting living trees.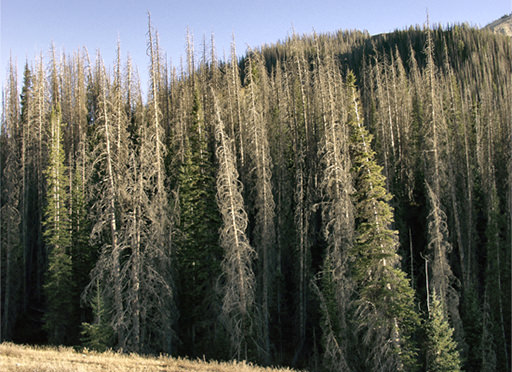 There are four distinct ways to buy from Satterwhite Log Homes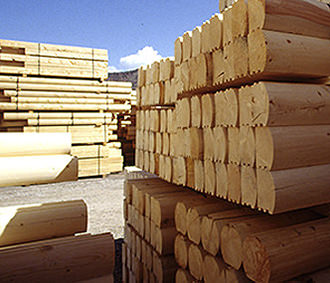 You build it.
House logs are the essential ingredient of any log home. Satterwhite sells in single units, essentially a "log home lumber yard."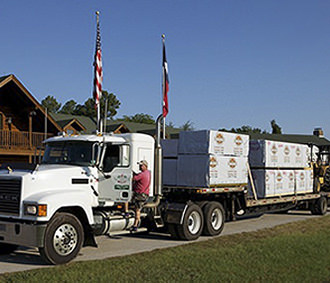 You build it.
We supply a package of materials necessary to dry-in your home. House logs, framing lumber, plywood, doors, windows, etc.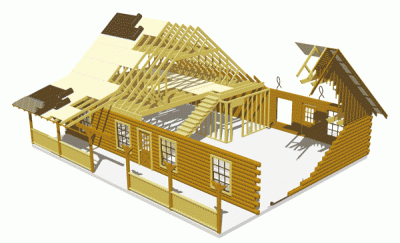 We provide materials and labor.
Our experienced team will dry-in your log home.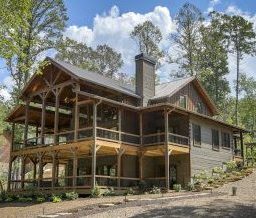 Only offered at the Ellijay office.
We can manage the project from initial permit, to certificate of occupancy.
What clients have to say about our services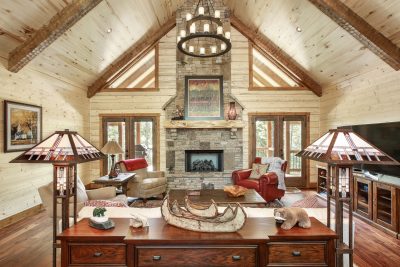 How fortunate we were to have come across Satterwhite Log Homes to help us build our future retirement home! The quality of the building materials, friendliness of staff, and detailed information provided from beginning to end was extremely important to us.
We're very proud of the natural beauty of the spruce logs, cedar deck posts, aspen wood ceilings, hewn beams, and cedar mantels to mention a few. Their assistance in tweaking their existing plans allowed us to personalize and ultimately end up with a true custom log home.
Thank you to everyone at Satterwhite Log Homes for helping us turn our dream home into a reality! You will always be highly recommended by us.
"For us, this kind of testimonial says if ALL? 
Donna and I recently fulfilled a lifelong dream of owning our own cabin retreat in the Blue Ridge Mountains. We were fortunate to have connected with Ron Lomonaco with Satterwhite Log Homes early in our search for a log home company. While we researched other companies Satterwhite's products, designs and acumen for dealing with us made the decision easy to select them for our dream log home.
The construction process was seamless and their cooperation/coordination with our builder Matthew Witt facilitated an excellent experience. I was also impressed with the transparency and thorough way Satterwhite's personnel interacted with all parties involved in our project.
Without reservations I can recommend the Satterwhite Log Home to anyone interested in first rate products and professional well trained personnel.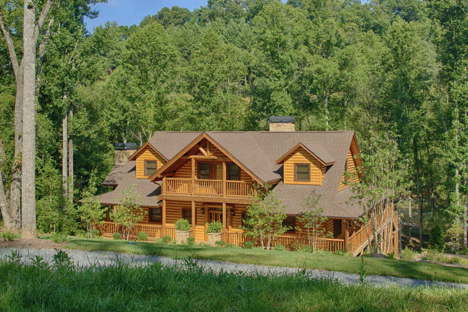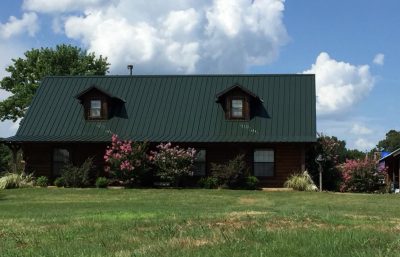 Love our Satterwhite Log home!
18+ years
Learn more about how we can manage your project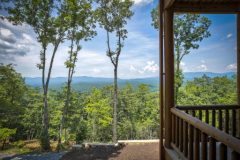 Dream It
Once you have chosen your building site, our Sales Staff will review the property with you to determine if there is any topological features which may affect the design of your home, They may also have suggestion to orient the house to maximize views, sun exposure and other natural features on the land. Our Sales Staff will also have local knowledge about building regulations, setbacks, zoning and other factors which can affect home size and location of your home.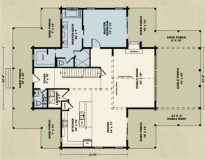 Draft It
Get ready to sketch out a plan and develop a budget for your Satterwhite Log Home. Our Sales Staff will guide you through each step of the way, starting with reviewing the floor plan options you can consider: one of our standard floor plans , modifying a plan, or creating a new custom design for your home. Our knowledgeable Sales and Design team will collaboratively work together to ensure we capture all of your needs in the floor plan. Provide as much detail as possible at this stage — selecting all the components: porches and decks, garages, interior trim, appliances and fixtures — so that your budget estimate will be as accurate as possible.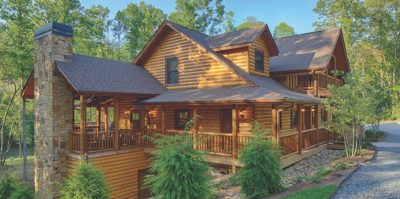 Build It
Once you've had a chance to review initial house plans, you'll want to ensue you haven't forgotten a detail or feature so that we can provide a final set of floor plans. You will have an opportunity to sit down and review the final floor plans and itemized quote for your log home. Once the floor plan and quote are satisfactory, we are off to building your Satterwhite Log home.
Frequently Asked Questions
Below is a list of our frequently asked questions
Cost per square foot?
Most of our standard shells average between $35 and $65 per square foot. Customers should spend about the same on the finished project as a brick veneer, if both are finished the same on the interior. However, custom plans with a lot of extras can run more per square foot. Cost also depends on building location. Your sales representative can assist you with an accurate estimate.
What about bugs, especially termites?
Even though it is a common concern when living in a wood home, termites are really not a prevalent problem. Termites are no more likely to infest log walls than they are studs in a more conventional house. Pretreat the foundation and have periodic inspections.
Are the logs precut in your material packages?
No, we do not precut. By not having the logs precut, the customer has more flexibility regarding log placement and design. This method is at least as fast and easy as trying to find the correct numbered log in a precut package, not to mention the cost savings of not having to pay for additional handling of the logs.
What is the moisture content of your logs?
Our logs are moisture tested at several stages during our manufacturing process. Our grading agency requires 19% or less. We have found that the logs perform better at 16% or less. Our dead-standing timber is usually in the 12- 15% range as opposed to 19-22% for kiln-dried timber.
What type of foundation is better: slab or pier and beam? Can a log home be built on a basement?
Log homes can be built on any foundation that other homes are built on, including basements. Floor plan size, customer preference, and building site (soil and slope) are all important factors in determining which foundation is best suited and most economical for each job. The majority of our houses are built on slab foundations.
Where do you build?
We currently construct shells in Texas, Louisiana, Oklahoma, Arkansas, Kansas, Missouri, Mississippi, Alabama, and Tennessee. Many times we are able to help you locate a builder experienced with our logs who can build outside this area. Ask your sales representative. Satterwhite Log Homes delivers materials all over the continental U.S. Overseas shipments are delivered to the nearest U.S. port. The customer ls responsible for containerizing and shipping beyond this point.
Can we use our own plans, or can we make changes to your plans?
The answer is yes to both questions. We are totally custom. We welcome modifications to any of our standard plans. Our in-house design department is available for a nominal fee to make these changes or design a home to fit your family's needs and budget.
Are your logs treated with chemicals?
No, we do not treat our logs with chemicals. We believe that your home should provide a safe environment for you and your family by being free of potentially harmful substances.
How difficult is it to obtain financing?
Today, log home financing is readily available at very competitive rates. Mortgage companies, local banks, and private investors are normal sources for financing. There are even several nationwide mortgage companies specializing in log home financing with whom we closely work.
How do you insulate the roof?
Most of our roof systems allow for conventional batted and blown insulation to be used. Attic insulation is not provided by Satterwhite Log Homes. In some cases the style of roof construction requires the use of rigid foam insulation to be incorporated into the roof system.
Do you do "turn-key" construction?
Yes, we at the Eastern Division specialize in turn-key building. Only the Eastern Division of Satterwhite Log Homes has the turn-key options when building your home.
How do you run the electrical?
Most electrical wiring in the log walls is run behind the interior window and door trim. Holes are drilled from these openings to outlet locations, and from tops of windows and doors through upper logs to the attic. Wire is run through this chase, leaving enough wire in the attic for your finish electrician to run to the nearest junction box. However, in walls with no window or door openings, outlets are cut and the wiring is routed between log courses. This wire is taken to an interior wall for connection.
Are log homes hard to insure? Does it cost more to insure a log home?
No, log homes are not hard to insure. Some companies may have more difficult underwriting guidelines than others, but obtaining reasonable rates should not be difficult. Log homes can typically be insured for the same cost as a frame house. Using a company that does a lot of rural properties will help keep rates low.
How much settling or shrinking should I expect in the walls?
By using dead-standing timber, the shrinkage is minimal. Wood is not perfect and will always move some, but the movement is insignificant enough that no special allowances have to be made for settling. Generally, caulking will remedy any cosmetic blemishes caused by movement.
What kind of wood do you use? Where do the logs come from?
Engelman Spruce and Lodgepole Pine are the predominant species of wood used by Satterwhite Log Homes. We also have Douglas Fir. All of our house logs originated in the higher altitudes of the Rocky Mountains, from New Mexico and Utah to British Columbia. By harvesting the dead timber, we are clearing the way for replanting. Our manufacturing plants are in Gunnison, Utah, and Longview, Texas.
How energy efficient are log homes? What is the R-factor?
Because of the thermal mass of the logs, log homes are very energy efficient. Proper building techniques are an important contributor to this energy efficiency. Even though the R-factor of wood is 1.25 per inch, when using 5- 1/2″ – diameter house logs you can expect to have walls equivalent to R-19 or better.
How are shipping costs calculated?
Delivery charges on material sales are calculated per loaded mile per truck from our Longview, Texas headquarters or our Western Division in Gunnison, Utah. Shipping costs are included in shell construction.
What is included in your shell construction?
Within 300 miles from our Texas headquarters, we do the roughed-in plumbing, concrete slab, exterior log walls, interior partition framing, roof system, decking, tarpaper, shingles, exterior doors and windows, and all exterior trim. Shingle installation is included within a 70-mile radius of Longview, Texas. Satterwhite Log Homes does not do any masonry work. When your shell is complete, you are ready to apply the protective coating to the logs and begin interior finish work.
What kind of maintenance is required? How often should you reseal? How long will a log home last?
Wood must have an exterior protective coating.Translucent coatings are affected by the sun's ultraviolet rays, so the more exposure to sunlight, the more often the need for recoating. In extreme cases with heavy exposure to the elements, recoating may be required every two to three years. However, in areas protected by porches, a maintenance coat is required as little as every five to six years. We still recommend an annual cleaning of your logs to remove dust. Porches not only decrease the need for maintenance, they also improve the energy efficiency of your home and add outdoor living space. A well-maintained log home will last indefinitely.
Can we buy Just the materials and build the home ourselves? Can our builder do the construction?
Yes. Of the approximately 450 homes we sell each year, only one-third of them are actually constructed by Satterwhite Log Homes' crews. The remaining two-thirds are built by other contractors and individuals. Satterwhite offers a very comprehensive "Material Package," which includes a construction manual and video covering the erection of the exterior log walls.